Tribute to President Ronald Reagan 2/6/1911 - 6/5/2004
Excerpts from the 1928 high school year book from Dixon, Illinois
Below is a transcript of page 85 from the 1929 "Dixonian." the Dixon High School yearbook. This was the second page for the lettermen on the track team. Ronald Reagan ran the four-forty.
Presented by author Kat Jaske. Use the side menu to see all 24 pictures.
Dixonian
1929
Edward Hilliker
Pole Vault
"Eddie" also leaves us. He was a hard worker, and will be greatly missed.
George Lebre
High Jump and Relay
George was a member of the relay team sent to Champaign and gave his all for victory.
Harold Marks
Discus and Shot
"Fat" was a good man with the weights and threw the "platter" for point-winning distances.
John Padgett
Four-forty
John won his letter this year by his fighting spirit. He never quit as several others can tell. Next year he should be of great value to the team.
Carl Plowman
Hurdles
Carl came out this year to win his letter and did it. He proved to be a fine hurdler, and will surely improve with age.
Ronald Reagan
Four-forty
"Dutch" was a real threat in the quarter mile and won many points. He will be lost to the team by graduation.
Elwood Schultz
Shot Put
Elwood came out this year to show how far the shot can be thrown. He did it nicely. Next year he should be much better.
Felchner Spotts
Mile and Eight-eighty
Felchner won his letter by his unwillingness to quit. He was a good distance runner. With one more year to run, he should easily better his record.
Ronald Reagan was in several activities in high school, including drama club, football, track, HI-Y club, and student council. He worked as a lifeguard in the summer. Be sure to see Ronald Reagan's poem, "Life," and the calendar of events for the school year on these web pages.
Also see the web pictures of the state funeral for Ronald Reagan.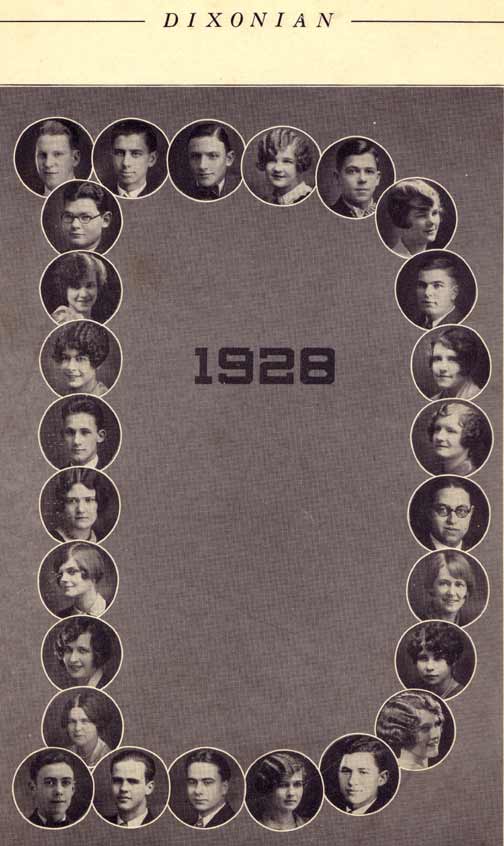 Above is page 8 from the 1928 yearbook. Ronald Reagan is the 5th from the left on the top. These are the "producers" of the Dixonian yearbook. See the "producers" page for their names.
There were a total of 84 senior pictures in the yearbook.