For Honor ->>>
Gambit ->>>
Righting Time ->>>
Out of Phase ->>>
Free downloads ->>>

Start reading:
1. Beginning of book ->>>
2. First chapter ->>>
3. Second chapter ->>>
For Honor: An Adventure of What Might Have Been
Book One of BY HONOR BOUND by Kat Jaske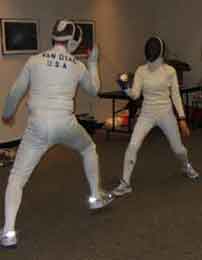 Kat Jaske fencing with instructor frank Van Dyke
Only a few will be found worthy. Will you?
Could you do the honorable thing?
Could you be stong enough? Brave enough?
Would the musketeers call you, "friend?"
Read their adventures and find out.
My friends,
Come with me to France, to the time of the musketeers, when honor is everything. Meet the musketeers. Laugh with them; ride with them, fight for your life with them. Weep with them. It's 1638. You are there. France does not suspect the evil forces working within to shatter the tranquility, to split the spoils for evil's own gain.
But this is no ordinary story, as circumstances conspire to plunge the young lady, master fencer into the fateful position of saving France from the traitor. She cannot do it alone, but she will be a part of the battle.
Feel the emotions of the musketeers as they are swept up in this battle. Can they accept a woman as an equal? Can they protect her. Should they protect her. Be careful, as you cannot stop once you begin. Fate has spoken.
Selected Excerpts From For Honor Are Below
Excerpt
The spy looked Laurel up and down. Dressed in a court gown and her hair done up, she was far from presenting a threatening picture, and the sword in her hand looked distinctly out of place. Not to mention that her shoulder was wounded.
"You don't really think you can stop me, mademoiselle," he informed her in his most condescending tones and moved to pass her.

She raised her weapon, barring his way. "You don't seriously think that I'm going to let you walk away after the crimes you've committed against me and mine." They stood staring at each other.

Neither gave and Laurel moved to disarm the man. Automatically, Georges parried. . . .
Excerpt
Her soft leather boots, very similar to those musketeers wore, echoed off the cobblestones and blended in with the sounds of the busy port city. She darted around the corner and searched for her horse.
Stopping short she pressed herself to the wall, flat. How had they found her so soon? . . . She took a fortifying breath and dashed back in the direction from which she had come.
At least she still had a hefty sum of money and one of her father's basket hilts. Hopefully she wasn't too out of practice with the sword, for she had a sinking feeling that she would have to be using it all too soon.
Excerpt
Moments dragged by as Aramis urged his friend to keep drinking until the bottle was drained, every last drop. He set the empty bottle aside and both uninjured musketeers prepared to hold Athos motionless.
Laurel lifted the cognac-soaked blade to the wound and made a deft, deep slice in the flesh of Athos' shoulder. Athos thrashed weakly, and the men held him down until finally he passed into merciful unconsciousness.
With her arm, Laurel wiped sweat from her brow and made another careful incision next to the wound. Suddenly the bleeding started again, and Porthos grabbed a fresh cloth and stanched the flow of blood while Laurel looked around for a forceps of some sort and laid them on the blood-stained bed-cloth. She paused right in the middle of making a third cut, and Aramis and Porthos both looked her straight in the eye. Long, palpably tense moments ticked by. "You can do it," they both encouraged her, and she bent her head and returned to the task at hand. There was no other option.

Use Google "search inside the book" to read Kat Jaske books before you buy. Go to www.google.com. 1. Click the "More" menu choice at the top left.
2. Click "books."
3. Type Kat Jaske in the google search box and click search books.
4. Click the title of the book and you will be taken to the first page for reading inside the book.
6. Click the top arrows to scroll through the book. Click the magnifying glass to make it bigger.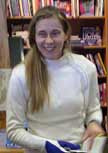 Mon Dieu! Can this young lady write! An unforgettable adventure fiction so exuberant, so unexpected that it leaves even the most jaded reader breathless for more. . . . fast-paced, swashbuckling book replete with humor, charm and valor extraordinaire. Five-star reviewed book. Forewordreviews.com

More Selected Excerpts
Excerpt
"A musketeer fears nothing," D'Artagnan insisted.
"Really, is that so? I thought only fools feared nothing," Laurel riposted, as she made her exit from the room.
Excerpt
Laurel's immediate response was a groan. She cocked her neck back to look at him while she was speaking. "We kind of got separated after I jumped out a window this morning." Aramis didn't even bother to comment on her multiple jumping episodes of the day. His eyes said it all.
Excerpt
How long the odd pair trudged along in that wasteland neither had a clue. They simply walked in a rough quick shamble, though there was probably nothing simple about it.
Excerpt
The stiff and proper butler raised his eyebrow in disapproval at the ragtag bunch that was standing in the open doorway. Four men and one lad, and all carrying swords. One tall and darkly handsome man, alluring, dangerous even. Another, a blond with a refined but rugged air and broad shoulders. Another yet who appeared to have just entered manhood, and a handsome young devil as well. Finally, there stood the frowning heir apparent to the comte.
"Please inform my mother that I am here," Porthos spoke.
Reviews <<<more reviews ->>>
"Best stories and best written books I have read in several years."
Mark Myers - storyteller - Ohio
"Kat's really good at creating characters you care about almost instantly." - Hillary Campbell
"Absolutely loved it! Your books are some of the most well-written that I have read. Your ability to maintain complex plots and provide a true flavor of Europe is amazing. Your character development is outstanding." - Linda Lipsitt
"I enjoyed it so much I read it twice." - Joe Sinnapan
"What a compelling story."
Dave Keeler
"The stories are movie-material in my opinion, and that is a compliment.' - Michiel Brongers
Selected by Las Vegas Green Valley High School for 2006 Reading Incentive Program