Get free downloads of book ->>>

Fencers LOVE these swashbuckling adventure books featuring spies, traitors, musketeers, sword fighting, and a lady musketeer in seventeenth century France.
Close your eyes for a moment and picture yourself transported away from the stress and worry of your everyday life to another time and place where honor is everything and friends are forever.
------------------------------
Fencing Pictures Menu
See page 2 fencing and book reading pictures. ->>>
See page 3 fencing pictures. ->>>
List of French fencing taunts/phrases ->>>
See video of author fencing ->>>
---------------------------------------------


For Honor ->>>
Gambit ->>>
Righting Time ->>>
Out of Phase ->>>
Free downloads ->>>
On Jan 29, 2005, the author, Kat Jaske, gave a fencing demonstration with instructor Frank Van Dyke of the Red Rock Training Center. The event was held at the Las Vegas main library.
Kat read from and presented her new book, For Honor.
-Thank you to the Las Vegas Library for holding the book signing in your main library.
-Thank you to Frank Van Dyke of the Red Rock Training Center in Las Vegas for holding a fencing class and helping with the fencing demonstration.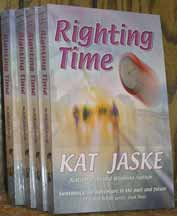 Righting Time
Book Three of BY HONOR BOUND
by Kat Jaske
What would you do if you were a time traveler and you made a terrible mistake?
What if that mistake is destroying your own history and your only hope is to convince 17th-century musketeers to travel forward in time and set events right?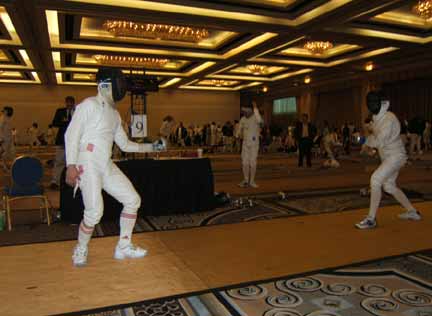 Above is a scene from the Duel in the Desert national fencing competition, held in the Flamingo casino in Las Vegas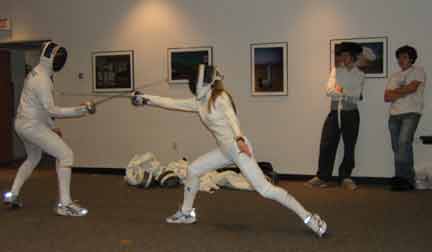 Above, Left, Frank Van Dyke
right, Kat Jaske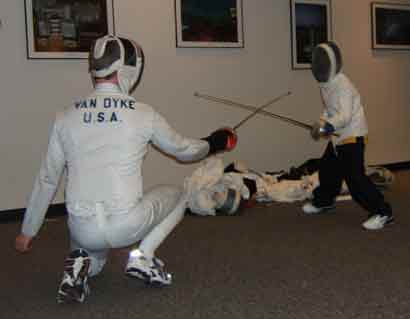 Above, young boy from the audience in fencing duel with instructor Frank Van Dyke.
History tidbit about sword fighting
In the time period of the Musketeers and King Louis XIII, every sword fighter was right handed, whether he was or not.
If you were left handed, you were still right handed. The left hand was for holding a lantern, since duels were illegal and were usually held at night.
In the book For Honor Laurel is a left handed fencer and that helps her to be a better fighter than many of the men because they did not know how to defend against a left handed fighter, and had no practice at doing so.
Out of Phase: A Time Traveler's Chronicle
Book Four of by Honor Bound series
Desperate people sacrifice almost everything that is dear to them and travel hundreds of years into the past to seventeenth-century France in hopes of saving their future.

They had what they thought was a great plan, but it failed. And, now, someone else has to pick up the pieces.

How can the musketeers and Laurel step in when these powerful people from the future ask for help?

Swashbuckling, adventure fiction at its best with memorable characters, musketeers, sword fighting, superheroes, extraordinary powers, romance, and battles against seemingly insurmountable odds.



For Honor ->>>
Gambit ->>>
Righting Time ->>>
Out of Phase ->>>
Free downloads ->>>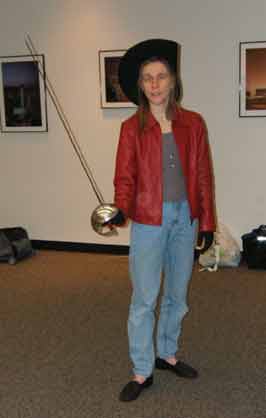 Above. Author Kat Jaske in musketeer hat demonstrating a type of sword used in fencing competitions.
Below, three readers examine the For Honor book after the presentation.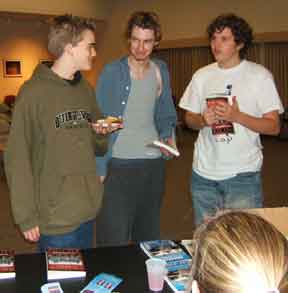 Reviews <<<more reviews ->>>
"Best stories and best written books I have read in several years."
Mark Myers - storyteller - Ohio
"Kat's really good at creating characters you care about almost instantly." - Hillary Campbell
"Absolutely loved it! Your books are some of the most well-written that I have read. Your ability to maintain complex plots and provide a true flavor of Europe is amazing. Your character development is outstanding." - Linda Lipsitt
"I enjoyed it so much I read it twice." - Joe Sinnapan
"What a compelling story."
Dave Keeler
"The stories are movie-material in my opinion, and that is a compliment.' - Michiel Brongers
Selected by Las Vegas Green Valley High School for 2006 Reading Incentive Program