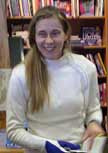 Can one woman save a country? TWICE?
Can she do it as a lady musketeer and fencer in 17th-century France, AND can she and the musketeers grant a hero's final wish?


For Honor ->>>
Gambit ->>>
Righting Time ->>>
Out of Phase ->>>
Free book downloads ->>>
Mon Dieu! Can this young lady write! An unforgettable adventure fiction so exuberant, so unexpected that it leaves even the most jaded reader breathless for more. . . . fast-paced, swashbuckling book replete with humor, charm and valor extraordinaire. Five-star reviewed book. Forewordreviews.com
Take a vacation in France
Be sure to use the menu on the left to see all the France pictures.

Click picture for a larger image of the Louvre pyramid.
The For Honor book cover is a picture of the Langeais castle in France and it makes a GREAT book for you to take with you on your vacation for reading on the long plane and train rides.
The Louvre has a wonderful mixture of the old and the new. I like the modern glass entry way. You can see the old portion of the Louvre behind the glass pyramid.
The movie version of The Da Vinci Code book by Dan Brown begins its story in the Louvre in Paris.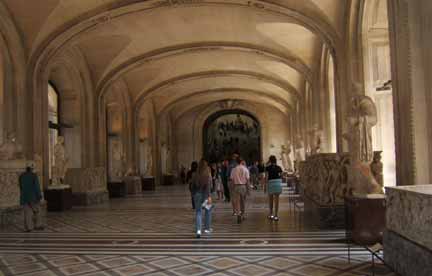 A main hall in the Louvre. The author, center, views the statues on display along the hall.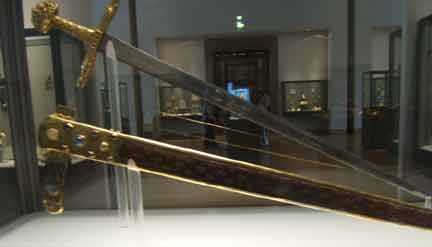 An old sword in the Louvre museum

Special SALE PRICE of $14.99
Eiffel Tower in Paris. There is a nice park around the base. Many visitors first fly into Charles de Gaulle airport and spend a little time in Paris visiting the sights.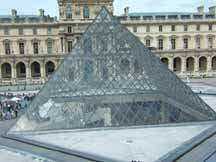 Click picture for larger image.
The entrance to the Louvre in Paris. Look closely and you can see through the glass to the interior.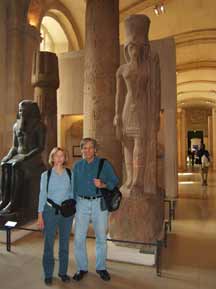 The Egypt exibit in the Louvre. Carl and Donna Jaske, Kat Jaske's parents, shown in front.
Reviews <<<more reviews ->>>
"Best stories and best written books I have read in several years."
Mark Myers - storyteller - Ohio
"Kat's really good at creating characters you care about almost instantly." - Hillary Campbell
"Absolutely loved it! Your books are some of the most well-written that I have read. Your ability to maintain complex plots and provide a true flavor of Europe is amazing. Your character development is outstanding." - Linda Lipsitt
"I enjoyed it so much I read it twice." - Joe Sinnapan
"What a compelling story."
Dave Keeler
"The stories are movie-material in my opinion, and that is a compliment.' - Michiel Brongers
Selected by Las Vegas Green Valley High School for 2006 Reading Incentive Program