Free book downloads->>>

My friends,
Come with me to France, to the time of the musketeers, when honor is everything. Meet the musketeers. Laugh with them; ride with them, fight for your life with them. Weep with them.
It's 1638. You are there. France does not suspect the evil forces working within to shatter the tranquility, to split the spoils for evil's own gain.
Read more ->>>
May be the best books you have read this year.


For Honor ->>>
Gambit ->>>
Righting Time ->>>
Out of Phase ->>>
Free book downloads ->>>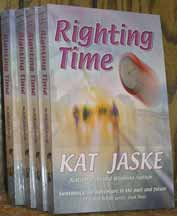 Righting Time
Book Three of BY HONOR BOUND
by Kat Jaske
What if Jala really is from the future and the fate of her future does depend on convincing Laurel and the 17th-century musketeers of that truth? Read Excerpts ->>>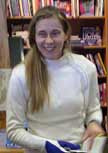 I. Introduction to publishing
-----------------------------------------------------------------------------------------
II. What is Print on Demand? Our experience with InfinityPublishing.com
(Updated 2/18/2009)
(There are other POD publishers.)
Quick summary: The book is printed only after it is ordered. They don't automatically get it into bookstores for you. You do not have to pay for or buy any copies of the book. You own all rights. You do all the marketing. It is NOT self-publishing or vanity publishing. It takes only about 3 months after you send them your book.
Cost: No one has to agree to take your book. You pay a small one-time fee to Infinity to get it all setup, $499 plus optional $149 for Ingram database listing. This includes that they design a simple cover and they get the ISBN #. This is cheap considering they spend maybe 5 hours at $75/hr = $370 just to design the cover.
EDIT: You must edit your book! I spent maybe 50 hours reading For Honor 5 times and coordinating editing and improvements with the author. If someone would charge $25/hr, that would cost $1250. Infinity offers copy editing for one cent a word, which would cost $1072 for For Honor. Get friends or relatives to help you edit to save costs. For technical books, sometimes a colleague will do editing for a free copy of the book.
How does the POD publisher help you? You aren't hiring them as sales agent. You are hiring them to do the technical setup for the book so it can be printed and made available for anyone to buy. But they do provide lots of information, and an annual conference, to help you market your book.
Infinity will send you a nice book that explains the format you should use for your book and what you must send them. It is very helpful. Anyone can follow the instructions. I preferred that they had us format our book to 8.5 x 5.5 rather than sending it as 8.5 x 11 and letting them format. You might think it is better to have them reformat it, but it's not. You are better able to edit your book and get it into perfect final format, and know the page count, which dictates the list price. (You don't want to end up with just one extra page that makes your book cost $1.00 more.)
Who ships the books? Infinity takes orders and ships the books. You don't have to ship any orders. But you may take orders and ship books if you want because you can offer the book at a discount and maybe get more sales. Authors can buy their own books, or other Infinity author books, at 40% off and sometimes 50% off for larger quantities.
Steps of the process. What do I do?
o Get the free book from Infinity, Become a published Author, from www.infinitypublishing.com
o Write your book in Word.
o You can insert black and white pictures only. The cover will be in color.
o Have your book edited!
o Write blurbs and a bio. List the author web site in the bio.
o Copy all files to a CD and mail it to Infinity.
o Start work on your web site and bookmarks.
o Write cover letters to reviewers and have them ready.
o Infinity designs a simple cover, or you can send your cover design in a file.
o They assign the ISBN #.
o They print the price on the book. This is more professional.
o Book price is determined by number of pages. 64 pages = $8.95, 128 pages = $10.95, 192 pages = $12.95, 288 pages = $15.95, 352 pages = $17.95. It goes up about a dollar for each 40 pages. For technical books, you can price the book much higher to reflect its real value and the limited number of people who want the book.
o They will send you proof books. You approve or change. You finalize.
o The book is then published.
o For purposes of selling to bookstore and getting reviews, you could define a release date 5 months later. Meanwhile you can order copies now.
o You should send copies of the book and information packets to many major book reviewers. Try to get reviews or comments from other readers. Look for independent sources where you can pay for a review. (You cannot control if they say good or bad things. It is a real review.)
o You can buy your first order at 50% off. Order as many as you think you need for the first 8 months.
o You, and any other customers, get 40% off if you buy 5 or more books. And you get free shipping if you order 20 of any books. It's worth ordering 20.
o Start promoting your book.
o Your book does not go out of print. You have lots of time to work on marketing.
III. Where can I get more information and help?
¯ www.forhonor.com Click publisher on menu at top. I have put a copy of these presentation notes there. You can then click the link to go to the publisher
¯ Look at www.infinitypublishing.com They sell books on how to market your book, where to send books for reviews, etc.
¯ You can have a printer design book marks, or buy them from Infinity.
¯ Editor. This young woman is a professional editor. She will discuss fees with you and try to do it cheaper than other places will. Hillary Campbell,

Above information from Donna Jaske


For the publisher of these books:
See www.infinitypublishing.com and
Books by Kat Jaske
Reviews <<<more reviews ->>>
"Best stories and best written books I have read in several years."
Mark Myers - storyteller - Ohio
"Kat's really good at creating characters you care about almost instantly." - Hillary Campbell
"Absolutely loved it! Your books are some of the most well-written that I have read. Your ability to maintain complex plots and provide a true flavor of Europe is amazing. Your character development is outstanding." - Linda Lipsitt
"I enjoyed it so much I read it twice." - Joe Sinnapan
"What a compelling story."
Dave Keeler
"The stories are movie-material in my opinion, and that is a compliment.' - Michiel Brongers
Selected by Las Vegas Green Valley High School for 2006 Reading Incentive Program
More notes
Here are more details below
Things I learned that are important.
-If you just want to have a book for yourself and a few friends and relatives, using a print on demand publisher is an ideal way to do it. It takes just a couple months after you send them the completed book, and it doesn't cost too much ($500 to $700. You spend that much on toys in a year. Get your kid's book published instead.), and you never have to buy any minimum number of books, and the book never goes out of print. You can always order more copies later. You own all rights to the book. You can have a "regular" publisher take it and publish it later if you want.

-The cover will be in color, but the interior is black and white.
-If you plan to try to sell the book and get reviews, then be sure to buy the option to have the book put on the Ingram database, cost $95.
-Be sure the POD publisher allows you to pre-format your Word file to exactly the size, font and margins and headers, etc. that will be used for the final book. At first it sounds nice when some say you can just send your 8.5 by 11.5 manuscript and they will format it. But that's bad because:
1) you may be able to change your story just slightly when you see you are over the page count, for example, by just 2 pages and your book will be priced higher. You NEED to see exactly how many pages it will be before you send it to them.

2) You need to look through your entire book in print preview mode to see how it looks. You want to avoid ending with just a couple lines on a page with the rest blank. Avoid one word alone on a line, but sometimes this is ok or the story has to have it this way. You just want to look at it to be sure the layout is "pretty."

3) You want to keep a file of your final document, and if they are changing and reformatting it after they get it, you never have a final file of your book. If you ever take it to another company, it will be a lot of work reformatting it.

4) You want to know your final page count before you send it to the publisher because you may want to shop the prices that different publishers will put on the book.
-Be sure they print the price on the back cover. It's more professional.
-After you get your final proof book and approve that everything is ok, do NOT sign to release it for them to publish it. Just order copies for yourself and start sending them off or selling them to anyone who might give you a review. You should make your official "release date" 4 months after you first send copies to reviewers.
Most reviewers will not review it after it has been "published." And POD publishers are different in that they use the date you approved it as the date published. But if you have not yet released the book, your proof copies will have an earlier date. Then you approve it, and the final ones that are available to the public will have that final date.

-Don't have a copyright date and date published of November or December unless it is a timely book only for those dates. Wait until January to copyright and "publish" it. It will look like a "new, fresh" book longer that way. As soon as it has last year's date, it looks old.

-If it is a book you want to try to sell, you must try to get reviews. You may need to get some help from publicity agencies to do this.

-There are a few places now where you can get a paid review, where the review is totally impartial. Some of the mainstream stores still frown on this because they think they are not impartial, but these types of reviews are going to become more popular. If your book is good, you may need to pay for a review to get an idea of what the experts think of it.
-You MUST edit your work!!! If you don't want to pay big money, get relatives and friends to all help edit it. And go through it yourself several times. The POD publishers do not edit it. Some have editors available that you can hire, but they seem terribly expensive.
I have a professional editor whom I hired here in Columbus to go through the book one final time after I was totally done editing it. Her fees were very reasonable and she did a good job finding little things. I can give you her name and email if you want.

-You should write the text that will go on the back of the book. Write and lay it out exactly the way you want it. Don't let them decide what to put there. You can ask them for advice or suggestions to what you have done, but you need to be in control of approving what goes on the back. You need an author picture, a bio, some blurbs from the book, and quotes from reviews if you have any.

-***When you send the bio to the POD company to use on their web site, be SURE you put your web site in the bio. The POD company doesn't link to your web site because they want people to stay on their site.

-Most POD companies will design a simple cover as part of the fee for your book. I am sure this is the most expensive part for them. Think if they spend 4 or 5 hours on the cover and they pay $70 an hour, that's $350 of their cost right now. But, 4 or 5 hours is not much to design a cover. So you will get a very basic cover. You should have some ideas of what you want on the cover and TELL them, to save them time. Also, send them a photo if you have one you want them to use. You might tell them to erase the photo background so it blends with the book background. I think this looks better. They will not hand draw you a cover for a few hundred dollars. This might cost $8000.

-You should have a web site if you plan to sell your book.

-If you are trying to sell your book, go to the Infinitypublishing.com authors' conference the end of September, or to a conference by another publisher, to learn how to market and sell your book.