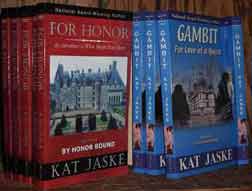 Picture yourself in France in the time of the musketeers, when your honor is who you are. Meet the musketeers. Laugh with them; ride with them; fight for your life with them. Weep with them. It's 1638. Circumstances conspire to plunge the young lady, a master fencer, into the fateful position of saving France from the traitor.



For Honor ->>>
Gambit ->>>
Righting Time ->>>
Out of Phase ->>>
Free book downloads ->>>
--------------------------------



Menu
Author events ->>>
The author, 2005-2006 ->>>
Award winning and run run run ->>>
Rats and rats ->>>
Kat and cats ->>>
Pictures from Ronald Reagan high school yearbook ->>>
Fencing ->>>
--------------------------------

* * * * *

June 29, 2010 Tuesday 2:00 pm - 4:00 pm
At the Upper Arlington, Ohio senior center, 1945 Ridgeview Road
Kat will hold an interesting discussion about historical events of 16th- and 17th-century France. Come learn some interesting tidbits about the people of that time.
********
February 27, 2010
Book Fair - Over 30 authors. Time 1:00 pm to 3:00 pm
Where: Las Vegas, NV- Clark County Library.
1401 Flamingo Road. Room: Jewel Box Theater
********
Pahrump, Nevada - Northwest of Las Vegas
March 29, 2008 - 10:00 am - 4:00 pm
2nd annual book fair, meet authors, sign, buy
Pahrump Community Library
701 E. Street, Pahrump, NV 89041
775-727-5930
*****
November 21, 2007
Green Valley High School, Henderson, NV
In-school book presentation and fencing demonstration during 4 different class times. Media are invited. Contact the high school for details. 702-799-0950
*****
October 27, 2007
Clark County Library Book Fair in Las Vegas
*****
Sept 26, 2007, 6:30 pm
Las Vegas, Clark County Library, 1401 E. Flamingo Road, Jewel Box Theater
Stepping Through the Wayback Machine-A Look at Historical Fiction
Join us as Linda Weaver Clarke "Melinda And The Wild West," Kat Jaske "Gambit: For Love Of A Queen," and Jack Miller "All Crooks Welcome" share their experiences writing for three different eras. For more info, call 702-507-3458
An adventurous Bostonian woman finds love and intrigue on the plains of the American frontier in 1896. A plucky lady musketeer saves her queen by swashbuckling her way through 17th century France. Two detectives from the newly formed Las Vegas Metropolitan Police Department, while investigating a string of burglaries in 1976, pose as fences to buy evidence directly from criminals which piques the interest of the District Attorney's office and the FBI. The authors on our panel know a thing or two about spinning history into their stories to draw in the reader.

*****
October 27, 2007, Free and open to the public, 11 a.m.-4 p.m.
Las Vegas, Clark County Library, 1401 E. Flamingo Road, theater section meeting rooms. For more information, please call 702-507-3458.
Local Authors Book Fair

Join us for our first Local Authors Book Fair featuring over 50 authors, publishing firms, book clubs and writers groups from Las Vegas, across Nevada and surrounding regions.
Check out the mini workshops on a variety of topics including "Writing Articles For Magazines, Newspapers, and The Web," "How To Get Your Book On Oprah," "Avoiding Publishing Scams" and more.
Find out how libraries and bookstores obtain their vast array of books and how to choose the right publisher for you. Book sales and signings, live entertainment, food and beverages available.
Local author and teacher Kat Jaske will give a presentation and will have a table displaying her books from 11am - 1pm. Books are available at discount.
*****
July 25 and 26, 2007
9:30-10:30 A.M, both days
Hyatt Regency San Antonio, 123 Losoya, San Antonio, Texas.
Across from the restaurant, above the bar
Anyone may attend.
*****
June 18, 2007
10:00 - 10:40 a.m. AND 5:00-6pm.
Books On First Bookstore
202 West First Street, Dixon, IL.
815-285-2665
My editor (and mom, Donna Ortgiesen Jaske) will entertain by reading from the new book, Righting Time and telling a little about the stories and books. Righting Time is not due out until July 6, 2007, but she will have copies of the book at this presentation for you to buy. You will be the first to be able to get them.
*****
* * * * *
EXTRA!! Green Valley High School in Las Vegas has selected For Honor as the featured book for the 2006 Reading Incentive Program.
History of some
BOOK SIGNINGS/READINGS:
JUNE 14, 2006, Wednesday, 10:30-11:30 A.M.
Dublin, OH Community Recreation Center.
Refreshments provided.
Please preregister by calling the Senior Adult Programming Office at 614-410-4550. All Community Center members welcome.
Entertaining fencing demonstration, and story-telling and readings from both books. Book signing.
JUNE 15, 2006, Thursday, 7:00 - 8:00 P.M. Columbus, OH
The Dublin Sport Fencing Center. Located on Sawmill Road, 1.3 miles north of I 270, in the Kroger shopping center, Olde Sawmill Square Shopping Center, 7668 Sawmill Road. 614-937-5415. All welcome.

Special - teaching of French fencing phrases. Reading of several fencing scenes from both books. Story telling. Book signing.

JUNE 16, 2006, Friday, 7:00 - 8:00 P.M.
Upper Arlington, OH
Liberty Books and News, Lane Avenue Shopping Center
614-486-5238
Fencing demonstration, types of swords, and presentation of book Gambit. Book signing. 5-minute mini, interactive workshop on how to get ideas and first sentences for your story.

June 17, 2006, Saturday, 2:00 - 3:00 pm
Columbus, OH
Borders Books
Corner of Kenny and Henderson. 614-451-2292
Fencing history and demonstration. Book readings and discussion of Gambit. Book signing.
-----------------------------------------------------------------------------
*****March 2, 2006, Green Valley High School, Henderson (Las Vegas), NV. 8:30am. Kat will present her book For Honor to the students and will give a lively fencing demonstration. This special school presentation supports the reading incentive program which has a goal to promote reading among high school students. Assemblyman Bob Seal will be an honored guest.
Media writeup on the presentation->>>
Media wishing to attend should contact the assistant principal, Linda Symonds at 702-799-0950, ext 4201.
*****January 17, 2006 at the Upper Arlington, OH Senior center, 1945 Ridgeview Rd., 12:30pm to 1:30pm. Donna Jaske presented how to get your book published using print on demand, and read from and discussed the book For Honor.
***** February 4, 2006 In Las Vegas, 2pm to 3pm at Borders at 1445 West Sunset Rd., Henderson, NV 702-433-6222.
Kat Jaske gave a fencing demonstration and read from her book For Honor.
She introduced her second book, Gambit, coming in March.
*****June 14, 2005, 11 am -12-noon
Fencing demo and book presentation.
Dublin, Ohio Main Library
75 N. High Street
Dublin, OH
*****June 14, 2005, 1 pm - 2pm
Fencing demo and book presentation.
Upper Arlington Library, Lane Road
1945 Lane Road 614-459-0273
Upper Arlington, OH
----------------------------------------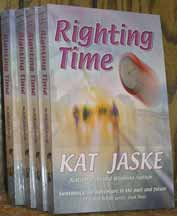 Righting Time
Book 3 of By Honor Bound
by Kat Jaske
What would you do if you were a time traveler and you made a terrible mistake?
What if that mistake is destroying your own history and your only hope is to convince 17th-century musketeers to travel forward in time and set events right?
What if Jala really is from the future and the fate of her future does depend on convincing Laurel and the seventeenth-century musketeers of that truth?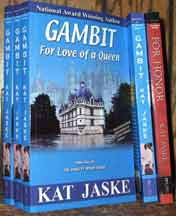 Book Two: Gambit For Love of a Queen by Kat Jaske
It's 1639 in the time of King Louis XIII of France. There is absolutely no doubt in Laurel's mind ---Laurel, the secret leader of France's spy network---that he would plunge France into another devastating war when he learns Queen Anne has been kidnapped.
Hear the clash of swords. Feel the pain of their thrusts. Fight alongside the musketeers and Laurel, and find the queen, and get her out, at all cost, and what costs. God may save the queen. But who will save the heroes?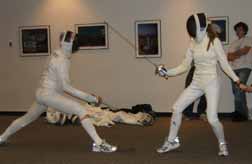 Kat Jaske and instructor Frank Van Dyke of the Red Rock Fencing Center in Las Vegas.
Fencers love the books For Honor and Gambit.
Reviews <<<more reviews ->>>
"Best stories and best written books I have read in several years."
Mark Myers - storyteller - Ohio
"Kat's really good at creating characters you care about almost instantly." - Hillary Campbell
"Absolutely loved it! Your books are some of the most well-written that I have read. Your ability to maintain complex plots and provide a true flavor of Europe is amazing. Your character development is outstanding." - Linda Lipsitt
"I enjoyed it so much I read it twice." - Joe Sinnapan
"What a compelling story."
Dave Keeler
"The stories are movie-material in my opinion, and that is a compliment.' - Michiel Brongers
Selected by Las Vegas Green Valley High School for 2006 Reading Incentive Program