Can one woman save a country? TWICE?
Can she do it as a lady musketeer and fencer in 17th-century France, AND can she and the musketeers grant a hero's final wish?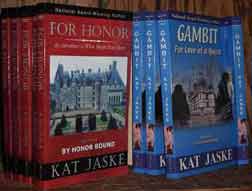 For Honor ->>>
Gambit ->>>
Righting Time ->>>
Out of Phase ->>>
Free book downloads ->>>
Tribute to President Ronald Reagan 2/6/1911 - 6/5/2004
Excerpts from the 1928 high school year book from Dixon, Illinois.
This is page 64 of the Dixonian. Reagan is in the bottom picture, on the right, waving.
The play is "You and I." See the side menu page 13 for a list of the cast.
Presented by author Kat Jaske. Use the side menu to see all 24 pictures.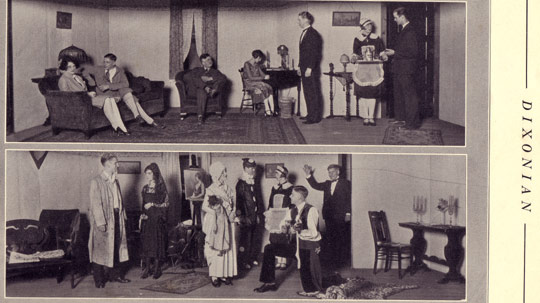 Ronald Reagan was in several activities in high school, including drama club, football, track, HI-Y club, and student council. He worked as a lifeguard in the summer. Be sure to see Ronald Reagan's poem, "Life," and the calendar of events for the school year on these web pages.
Also see the web pictures of the state funeral for Ronald Reagan.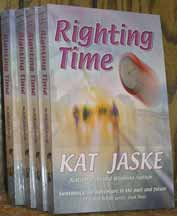 Righting Time
Book Three of BY HONOR BOUND
by Kat Jaske
What if Jala really is from the future and the fate of her future does depend on convincing Laurel and the 17th-century musketeers of that truth? Read Excerpts ->>>
Buy Books ->>>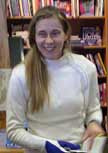 Reviews <<<more reviews ->>>
"Best stories and best written books I have read in several years."
Mark Myers - storyteller - Ohio
"Kat's really good at creating characters you care about almost instantly." - Hillary Campbell
"Absolutely loved it! Your books are some of the most well-written that I have read. Your ability to maintain complex plots and provide a true flavor of Europe is amazing. Your character development is outstanding." - Linda Lipsitt
"I enjoyed it so much I read it twice." - Joe Sinnapan
"What a compelling story."
Dave Keeler
"The stories are movie-material in my opinion, and that is a compliment.' - Michiel Brongers
Selected by Las Vegas Green Valley High School for 2006 Reading Incentive Program