Picture yourself in France in the time of the musketeers, when your honor is who you are. Meet the musketeers. Laugh with them; ride with them; fight for your life with them. Weep with them. It's 1638. Circumstances conspire to plunge the young lady, a master fencer, into the fateful position of saving France from the traitor.


For Honor ->>>
Gambit ->>>
Righting Time ->>>
Out of Phase ->>>
Free downloads ->>>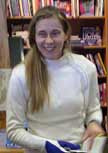 National award winning author of
For Honor: An Adventure of What Might Have Been

Righting Time
Book Three of BY HONOR BOUND
by Kat Jaske
What would you do if you were a time traveler and you made a terrible mistake?
What if that mistake is destroying your own history and your only hope is to convince 17th-century musketeers to travel forward in time and set events right?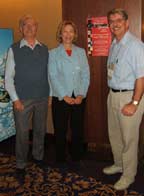 To left is picture of authors Joseph Callewaert, Rod Cochran, and Donna Jaske - Kat Jaske's mother. Click picture for larger image.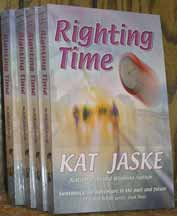 Author/Book Sites

www.nothingbinding is a great site for authors and readers looking for good books.

Author nation, another great author site
See a more complete listing at >>>
Buy 5 or more books, any titles, from Infinity and get 40% off, plus reduced or no shipping cost.
Click books for the author website

**

**

See this great page for Infinity books to buy ->>>
See www.infinitypublishing.com ->>>
- Bear Hollow by Rod Cochran
- An Enchanting Journey by Joseph Callewaert
- The Redhead from Alpha Centauri by Krishna Kumar and Jai - Robert Kumar
- Shadow Walkers by R. Terry Mc Anally
- Gambit For Love of a Queen by Kat Jaske
- For Honor: An Adventure of What Might Have Been by Kat Jaske
- Righting Time by Kat Jaske - new June 2007
- Orphan Records by John D. Wolf
- A Dark and Stormy Knight by John D. Wolf
- Beyond the Cold by Michael Kleiner
- The Perfect Steel Trap Harpers Ferry 1859 by Bob O'Connor
- The Indaba Tree Odyssey by Amma Jill
- Lead Your Way to Better Healthcare by Margo Corbett
- Talk Radio for Authors by Francine Silverman
- Stop When You see Red by Carol Welsh
Miscellaneous links
Paintsites.com ->>> has Dutch Boy paint links. President Ronald Reagan's nickname "Dutch" came from the picture on the Dutch Boy paint can, says author Kat Jaske. ->>>
Bed and Breakfast Inn-Town - Nice place an hour southwest of Chicago. Tom is a published poet, and Kathy cooks great food. Perhaps he will do some readings for you.
fitness4service - Neat engineering site. They can do testing to make sure metal parts and containers don't break in use. They could have tested the swords from the 17th century musketeers if they were in business then.
President Ronald Wilson Reagan tribute- pictures from high school yearbook and from 6/9/2004 State Funeral
Wake Forest University in NC - my alma mater
Author web sites. Check these out. There are lots of great books by these authors.
Orson Scott Card His Ender's Game and Ender's Shadow are among the best science fiction books.

Book Review Links
christianbookpreviews.com ->>>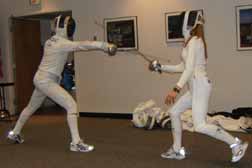 Fencing Links
The Dublin Sport Fencing Center
In Dublin, OH
Director Samuel N. Lillard.
Group beginning classes for all ages available. Other classes available.
Become a member. www.sport-fencing.com

Fencingphotos.com has great fencing photos ->>>
Royal Arts Fencing Academy and Julia Richey, in New Albany, Ohio, near Columbus, Ohio offers fencing instructions for all ages ->>>
Local author links
Columbus and Upper Arlington area

Stephanie Bavaro, Chalking it up ->>>
Satire on working in the corporate environment
Downtown Writers Network - Columbus, resource for writers in central Ohio.->>>
Mark Myers, storyteller->>>
Mark the Storyteller is the entertainer for your group. With years of experience as a professional storyteller, Mark can fire-up imaginations like few others in the central Ohio area.
Google search
Reviews <<<more reviews ->>>
"Best stories and best written books I have read in several years."
Mark Myers - storyteller - Ohio
"Kat's really good at creating characters you care about almost instantly." - Hillary Campbell
"Absolutely loved it! Your books are some of the most well-written that I have read. Your ability to maintain complex plots and provide a true flavor of Europe is amazing. Your character development is outstanding." - Linda Lipsitt
"I enjoyed it so much I read it twice." - Joe Sinnapan
"What a compelling story."
Dave Keeler
"The stories are movie-material in my opinion, and that is a compliment.' - Michiel Brongers
Selected by Las Vegas Green Valley High School for 2006 Reading Incentive Program