Can one woman save a country? TWICE?
Can she do it as a lady musketeer and fencer in 17th-century France, AND can she and the musketeers grant a hero's final wish?
--------------------------------



Menu
Author events ->>>
The author, 2005-2006 ->>>
Award winning and run run run ->>>
Rats and rats ->>>
Kat and cats ->>>
Pictures from Ronald Reagan high school yearbook ->>>
Fencing ->>>
--------------------------------
Run run run
I love to run. In fact, they recruited me for the cross-country team after seeing me play soccer in 7th grade, since I never got tired and was always running around (not always kicking the ball).
read more ->>>


For Honor ->>>
Gambit ->>>
Righting Time ->>>
Out of Phase ->>>
Free book downloads ->>>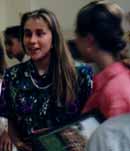 When did I write my book, For Honor?
In the summer of my junior year in college I finally was able to make one of my dreams come true and go to Cannes, France. For several months I studied French language, civilization and culture. I also got more ideas for books and felt even closer to my personal favorite, Alexandre Dumas.
In case you were wondering, I had just finished For Honor and the second novel called Gambit For Love of a Queen before I got to France. Naturally I ended up tweaking them some after I got back from France. I also started on Righting Time and eventually went on to finish Out of Phase.
All of these swashbuckling books feature lady musketeer Laurel d'Anlass and the musketeers.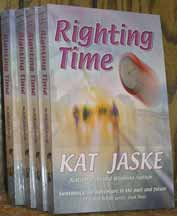 Righting Time
Book Three of BY HONOR BOUND
by Kat Jaske
What if Jala really is from the future and the fate of her future does depend on convincing Laurel and the 17th-century musketeers of that truth? Read Excerpts ->>>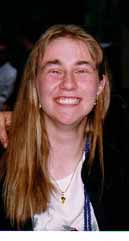 For Honor ->>>
Gambit ->>>
Righting Time ->>>
Out of Phase ->>>
Free book downloads ->>>


Upper Arlington High School graduate, summa cum laude. Ohio
- Helped Upper Arlington High School cross-country team win the 1990 state championship
- Also ran at the state track competition in the 4 X 800 meter relay
- Wake Forest University - Bachelors degree in English and Psychology. Graduated magna cum laude in 3 and a half years.
- UNLV - Master of Education
- Teacher of French and English in Green Valley High School in Henderson, NV.
- Enjoys running, sport fencing, singing
Some twenty-nine and more years ago I was born at the Ohio State University Hospital in Columbus, Ohio. If you want the exact date it's October 17. My younger sister, Karen Renee Jaske, was born about 4 years after me.

How did I get interested in French and The Three Musketeers?
When I was 7 years old, I started taking French at L'Ecole Française, a branch of Learning Unlimited schools in Columbus. Their theme was a partial immersion and having native speakers teaching French to all kids enrolled at the school. So, you might say, this is where I first started learning about France and became fascinated by its people and its culture. Plus, it gave me a chance to hear and learn genuine French accents.
My junior year in high school, in French class, Stephanie (a good friend of mine) and I were so inspired by Alexandre Dumas' Trois Mousquetaires that we were reading in French that we did a three part illustrated "spoof", a Spaceballs type thing, in French.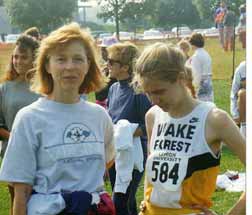 Author and mother
My outlook on life? As a teacher it is my desire to instill in all those around me, especially my students, a love of learning, and to teach the ability to think and question and discover for themselves. Call it a variant on "to thine own self be true"- William Shakespeare.
Personally, I consistently strive to accentuate the positive and to leave my corner of the world a little better place than I came to it, whether it be by a hug, a smile, a few words of encouragement, some tutoring, or a thousand other small things one can do.
I'm constantly having the opportunity to give of my time and talents
through church, whether it be teaching, singing, playing piano, helping people with tasks they need to get done, arranging little get togethers, or helping out with various service projects.

It is my goal to continue to cultivate an optimisitc attitude and better love my neighbors; like the three musketeers, I strive to remember that we are all in this together, that it truly is tous pour un et un pour tous (all for one and one for all), and, moreover, that we are here to help each other stand a little taller, be a little happier, or be just a bit better than we were before.
The author fencing in France
Gambit For Love of a Queen
Book Two of BY HONOR BOUND
by Kat Jaske


What if Queen Anne of 17th-century France has been kidnapped and Laurel and the musketeers attempt a rescue mission without telling King Louis XIII? And what happens to Laurel, the musketeers and France if they fail? Read excerpts ->>>
All books by Kat Jaske are available online from Amazon and from the author.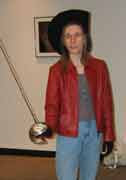 QUIZ: What do these people have to do with the author?
>>President Ronald Reagan
My grandfather was a friend of Ronald Reagan in High School in Dixon, Ill. We have a year book signed by Ronald Reagan.
see pictures ->>>
>>Tim Duncan (basketball)
I went to college with basketball superstar, Tim Duncan, who, like me, happened to be a psychology major.
>>Andy Bloom (Olympics)
I was on the Wake Forest Track Team for three years with Andy Bloom who won 4th place in the shot in the Olympics in Sydney in 2000.
>>Francie Goodridge (Olympics)
My college Cross-Country and Track Coach, Francie Goodridge, was an Olympic 800 meter athlete.
>>Orson Scott Card (An award-winning Sci-Fi and Fantasy author)
Orson Scott Card who lives in Greensboro, N.C. (This isn't far from Wake Forest University), is a member of the the Church of Jesus Christ of Latter Day Saints, the same as I am.
->>Orson Scott Card website
>>Marc Blucas (actor), played Riley Finn on "Buffy the Vampire Slayer."
I went to college with Marc, a scholar athlete who played basketball at Wake Forest.
My parents had me attend Learning Unlimited schools from Kindergarten through fifth grade. When I was ten I left private school and transferred to Hastings Middle School in Upper Arlington. While I was there, I took up the piano and continued my violin lessons. I also participated in soccer and then eventually cross-country, track, and choir. (I have this need to be busy, very busy, in case you haven't noticed.)
As far as school goes, suffice it to say I did well. I was always on honor roll and was in advanced classes. Of course they wouldn't let me take French again till 8th grade because of the bureaucracy of the system, and when I finally took the French course, it was almost the exact same course I had completed back in 5th grade. (French was still the same language.) Sometimes I really don't get red tape and the so-called way things must be done.
Reviews <<<more reviews ->>>
"Best stories and best written books I have read in several years."
Mark Myers - storyteller - Ohio
"Kat's really good at creating characters you care about almost instantly." - Hillary Campbell
"Absolutely loved it! Your books are some of the most well-written that I have read. Your ability to maintain complex plots and provide a true flavor of Europe is amazing. Your character development is outstanding." - Linda Lipsitt
"I enjoyed it so much I read it twice." - Joe Sinnapan
"What a compelling story."
Dave Keeler
"The stories are movie-material in my opinion, and that is a compliment.' - Michiel Brongers
Selected by Las Vegas Green Valley High School for 2006 Reading Incentive Program