My friends,
Come with me to France, to the time of the musketeers, when honor is everything. Meet the musketeers. Laugh with them; ride with them, fight for your life with them. Weep with them. It's 1638. You are there. France does not suspect the evil forces working within to shatter the tranquility, to split the spoils for evil's own gain. Read more ->>>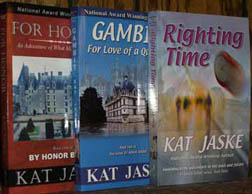 For Honor ->>>
Gambit ->>>
Righting Time ->>>
Out of Phase ->>>
Free downloads ->>>
--------------------------------



Menu
Author events ->>>
The author, 2005-2006 ->>>
Award winning and run run run ->>>
Rats and rats ->>>
Kat and cats ->>>
Pictures from Ronald Reagan high school yearbook ->>>
Fencing ->>>
--------------------------------
The book cover of Righting Time features the glass pyramid of the Louvre in Paris, France.
The cover of Gambit features Azay le Rideau castle in France, with the Chambord castle in the background.
The cover of For Honor features the Langeais castle/chateau in France.
Video of author Kat Jaske teaching the dog to fence at the Red Rock Fencing Center. Swords everywhere! Dangerous! Riveting action. Dog paying rapt attention. Don't try this at home.
April 5, 2007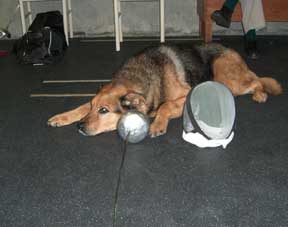 Dog gone tired from all that fencing and sword stuff.
*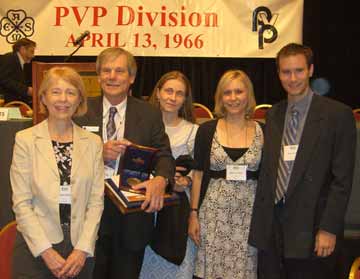 My Dad - Carl, mom - Donna, Kat Jaske, Karen Jaske - sister, Nick Stoycheff - Karen's friend
My father received the highest medal in July 2007 from ASME for his lifetime work. We were all there in San Antonio to see the presentation.
Mom does most of the editing on my books and she is a real slave-master.
"Don't tell me I have to write it again!!"
Below is the Green valley High School in Henderson, NV, where I teach French.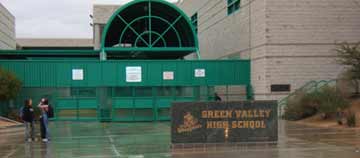 The Green valley High School in Henderson, NV ordered copies of my book For Honor for every English teacher in the system, and they selected For Honor to feature in the "Reading Incentive Program" in February/March 2006. I am so pleased the school likes my books enough to buy them for the students.
They also bought lots of copies of Gambit in 2006 and Righting Time in 2007. Thank you.


What would you do if you were a time traveler and you made a terrible mistake?
What if that mistake is destroying your own history and your only hope is to convince 17th-century musketeers to travel forward in time and set events right?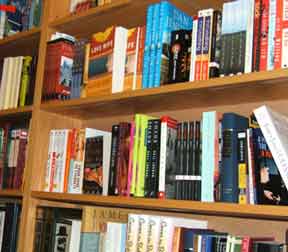 My book, For Honor, in the Las Vegas Borders Bookstore in Henderson, NV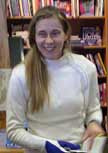 "Fast-paced, swashbuckling book replete with humor, charm and valor extraordinaire. . . . an unforgettable adventure fiction so exuberant, so unexpected that it leaves even the most jaded reader breathless for more." ForeWordReviews.com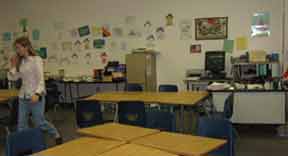 Inside my French classroom in Green Valley High School in Las vegas.
I'm also busy with my running, fencing, music, activities in my church, and my black cat Minnesota.
If you attend the LDS churches in Henderson, NV, stop in and say hello to me. email me to find which Ward I attend. contact->>>
Reviews <<<more reviews ->>>
"Best stories and best written books I have read in several years."
Mark Myers - storyteller - Ohio
"Kat's really good at creating characters you care about almost instantly." - Hillary Campbell
"Absolutely loved it! Your books are some of the most well-written that I have read. Your ability to maintain complex plots and provide a true flavor of Europe is amazing. Your character development is outstanding." - Linda Lipsitt
"I enjoyed it so much I read it twice." - Joe Sinnapan
"What a compelling story."
Dave Keeler
"The stories are movie-material in my opinion, and that is a compliment.' - Michiel Brongers
Selected by Las Vegas Green Valley High School for 2006 Reading Incentive Program