For Honor was selected by Green Valley High School in Las Vegas for the 2006 Reading Incentive Program.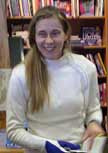 For Honor ->>>
Gambit ->>>
Righting Time ->>>
Out of Phase ->>>
Free book downloads ->>>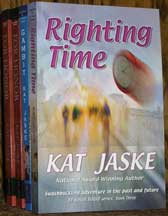 Righting Time
Book Three of BY HONOR BOUND
by Kat Jaske
What if Jala really is from the future and the fate of her future does depend on convincing Laurel and the 17th-century musketeers of that truth? Read Excerpts ->>>
For Honor
AN ADVENTURE OF WHAT MIGHT HAVE BEEN
Book One of BY HONOR BOUND
by Kat Jaske
Can one woman save a country? Can she do it as a lady musketeer and fencer in 17th-century France, and can she and the musketeers grant a hero's final wish?
Section One Excerpts
"Mince alors, good grief, . . . " D'Artagnan said in a low voice, barely stopping himself from addressing the disguised woman as Laurel. "What are you doing here?"

"I cannot think that's a conversation we want to be having in this room. It would be kind of hard to explain things to the satisfaction of all onlookers, now, wouldn't it?"

Athos turned his attention to D'Artagnan and told him to go extract Porthos. After D'Artagnan had escaped from his chair and braved the crowd surrounding the large musketeer, Athos permitted himself a moment to take stock of the woman who called herself Laurel.

He'd be—she'd actually tracked them, and they never even noticed. Which could well mean they hadn't eluded the cardinal's Guard. Then again the cardinal's guards were rather inept. Laurel forestalled further action on Athos' part by jumping to her feet and proceeding to inform him that since he was so reluctant, she would have to go retrieve Aramis herself. "Not to worry. I'll be back for you," she decreed and danced off to "rescue" Aramis.

Before he could stop her, she had inserted her body in the small space between the couple and forced Aramis' attention to her. "Your friends have sent me to fetch you. It's important, and I'm afraid it is a matter that must be discussed now and in private," Laurel said, fending off the barmaid with ease, and unbeknownst to her, saving Aramis the problem of figuring out how to get rid of the girl.

"You are supposed to be in Paris under the protection of Monsieur de Treville," Athos scolded Laurel almost as if she were a recalcitrant child, and his three companions looked on, disapproval plain in their stiff stances.

"I told you before that I am the only one who has the ability to contact my father, and that is a vital part of this mission. And," she said raising her voice so that the men could not shut her out, "patronizing sons of . . . "I did tell you that I had a great deal of experience in the field of espionage and that I would not be left behind. Nor will I be left behind again."

"Please, Lady Laurel," D'Artagnan broke in, "we would not have you destroy your life and reputation. We would not see you killed on a dangerous mission. Can you not go where it is safer?"

With those words Laurel lost her composure and ripped into the young man and his friends. "Perhaps all of you should let me be the judge of what is and what is not safe and proper for me. Who are you three to tell me that I am safer in Paris, near the cardinal whom both my father and I not only despise but also mistrust? Knowing that, you still have the gall to tell me what's safe for me." She paused to catch her breath, her eyes flashing in challenge. "I can quite well take care of myself, as well as any one of you. I am a very good rider and an excellent fencer, not to mention that you were able to lose the cardinal's guard, but were unable to lose me."

Porthos leaned over towards the man closest to his height and commented, "Nasty little temper there." Aramis nodded. Almost as an afterthought the big man added, "Is she really any good at fencing?"

"She held her own in Marseille when D'Artagnan and I were fighting alongside her," the would-be-priest admitted, a bit grudgingly. . . .
Read excerpts from chapter two ->>>
Read selected excerpts from For Honor ->>>
Start reading from beginning of book ->>>
Buy Books ->>>
Read More Excerpts
Read excerpts from chapter two ->>>
Read selected excerpts from For Honor ->>>
Start reading from beginning of book ->>>
Reviews <<<more reviews ->>>
"Best stories and best written books I have read in several years."
Mark Myers - storyteller - Ohio
"Kat's really good at creating characters you care about almost instantly." - Hillary Campbell
"Absolutely loved it! Your books are some of the most well-written that I have read. Your ability to maintain complex plots and provide a true flavor of Europe is amazing. Your character development is outstanding." - Linda Lipsitt
"I enjoyed it so much I read it twice." - Joe Sinnapan
"What a compelling story."
Dave Keeler
"The stories are movie-material in my opinion, and that is a compliment.' - Michiel Brongers
Selected by Las Vegas Green Valley High School for 2006 Reading Incentive Program