For Honor ->>>
Gambit ->>>
Righting Time ->>>
Out of Phase ->>>
Free downloads ->>>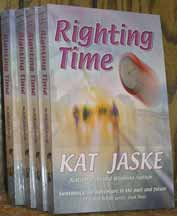 What would you do if you were a time traveler and you made a terrible mistake?
What if that mistake is destroying your own history and your only hope is to convince 17th-century musketeers to travel forward in time and set events right?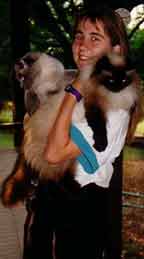 These are my cats when I was in high school. One is Siamese and one is a Himalyan.
--------------------------------



Menu
Author events ->>>
The author, 2005-2006 ->>>
Award winning and run run run ->>>
Rats and rats ->>>
Kat and cats ->>>
Pictures from Ronald Reagan high school yearbook ->>>
Fencing ->>>
--------------------------------


My friends,
Come with me to France, to the time of the musketeers, when honor is everything. Meet the musketeers. Laugh with them; ride with them, fight for your life with them. Weep with them. It's 1638. You are there. France does not suspect the evil forces working within to shatter the tranquility, to split the spoils for evil's own gain.
Black cats, big cats, little cats, pretty cats, cat in the hat, cat with a mouse, and cat in the drawer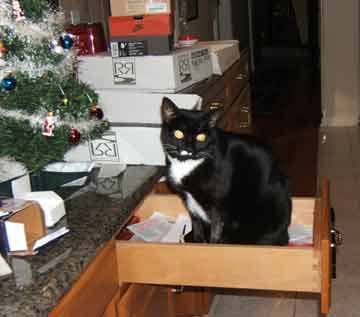 Mia, author's moms' cat. "You've heard of 'cat in the hat,' right? Well I like drawers and boxes. Christmas always brings such nice boxes that I can't decide which one to sit in first."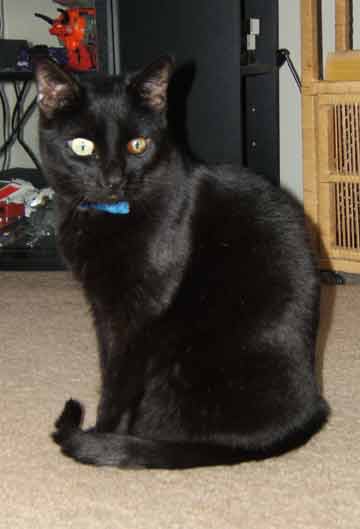 Minnesota. "Maybe if I sit here nice and pretty, she will feed me. That red eye is camera stuff. I really look much better than this in person, I mean in cat."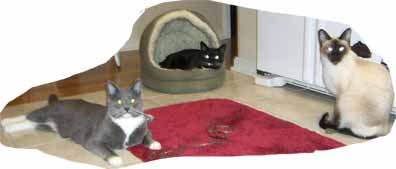 My sister's grey cat Rocco. My mom's black cat Mia and siamese cat Luke. "Everybody look at the camera now and say 'cheese'."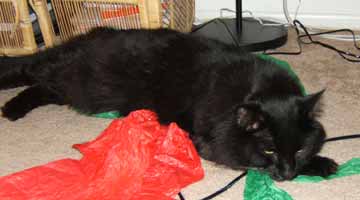 My cat, Porthos, just loves Christmas gifts!
He's 7 years old, huge, long haired and the friendliest cat you will ever know.
How did I get Porthos? My mom came to visit in the summer and found him as a stray outside the apartment. She talked me into taking him in and feeding him, "just until we find the owner." It turned out his rabies tag was old, and there was no longer an owner. Then, Mom packed up and flew home leaving me with orders to find him a good home. "You can't throw a long haired black cat out in 114 degrees Vegas heat." She also named him Porthos before she left just to make good and certain that I didn't get rid of him. Happily, I did find a good home for Porthos.
Below is my sister's cat, Rocco.
He is a gray kitten with white feet and loves to play with his mouse.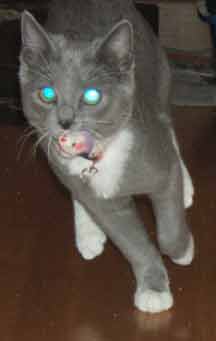 "Here I come.

OR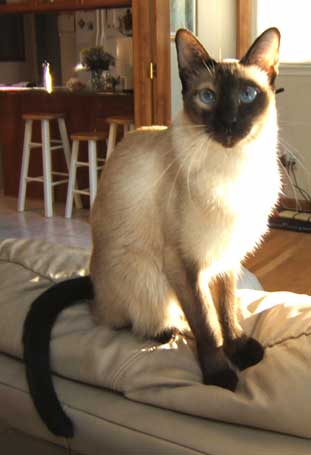 This is Luke, my mom's seal point siamese cat. She got him when he was just a tiny kitten. Now, he's about 4 and a half years old, and loves to play 'fetch' with a toy mouse. We toss it, he runs to get it and he brings it back to us to throw again. "And I love boxes too."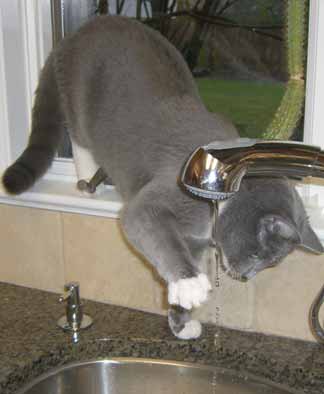 "I'll get it yet."
Reviews <<<more reviews ->>>
"Best stories and best written books I have read in several years."
Mark Myers - storyteller - Ohio
"Kat's really good at creating characters you care about almost instantly." - Hillary Campbell
"Absolutely loved it! Your books are some of the most well-written that I have read. Your ability to maintain complex plots and provide a true flavor of Europe is amazing. Your character development is outstanding." - Linda Lipsitt
"I enjoyed it so much I read it twice." - Joe Sinnapan
"What a compelling story."
Dave Keeler
"The stories are movie-material in my opinion, and that is a compliment.' - Michiel Brongers
Selected by Las Vegas Green Valley High School for 2006 Reading Incentive Program