Can one woman save a country? TWICE?
Can she do it as a lady musketeer and fencer in 17th-century France, AND can she and the musketeers grant a hero's final wish?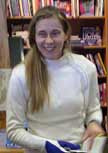 For Honor ->>>
Gambit ->>>
Righting Time ->>>
Out of Phase ->>>
Free book downloads ->>>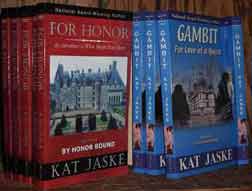 Special, no shipping cost, for Upper Arlington, Ohio residents and neighbors.
Call the author's mother in Upper Arlington at 614-457-2861. Or send email to

If you pick up the book there is no shipping charge.
See book prices ->>>
Kat Jaske
National award-winning author->>>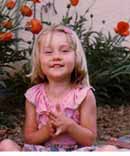 *Upper Arlington High School Graduate
*Runner on 1990 state championship UA cross country team
* Wake Forest University graduate
*UNLV graduate
*Teaches English and French in Las Vegas
Buy from in stock books at these Columbus and Upper Arlington stores. ->>>
Kat Jaske at age 4.
Buy Books ->>>

Author in black shorts, running
the 4 x 800 track relay for Upper Arlington High School.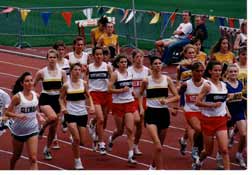 Upper Arlington High School 1991 track team. Author second from left getting ready for
the 4 x 800 race at the state meet.
Kat is an avid runner, and helped her high school team win the 1990 state cross-country championship.
Reviews <<<more reviews ->>>
"Best stories and best written books I have read in several years."
Mark Myers - storyteller - Ohio
"Kat's really good at creating characters you care about almost instantly." - Hillary Campbell
"Absolutely loved it! Your books are some of the most well-written that I have read. Your ability to maintain complex plots and provide a true flavor of Europe is amazing. Your character development is outstanding." - Linda Lipsitt
"I enjoyed it so much I read it twice." - Joe Sinnapan
"What a compelling story."
Dave Keeler
"The stories are movie-material in my opinion, and that is a compliment.' - Michiel Brongers
Selected by Las Vegas Green Valley High School for 2006 Reading Incentive Program
Kat Jaske won the national prize for a poem she wrote while at Wake Forest University, and she won the Upper Arlington, Ohio High School top-five senior thesis award for her book. Kat is fluent in French, and earned certificates from Jean Paul Valery University in Montpellier, France. She has a master of education and teaches English and French in Las Vegas.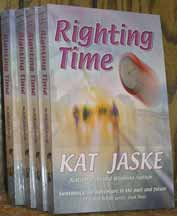 Righting Time
Book Three of BY HONOR BOUND
by Kat Jaske
What if Jala really is from the future and the fate of her future does depend on convincing Laurel and the 17th-century musketeers of that truth? Read Excerpts ->>>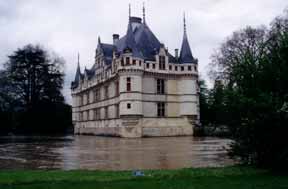 Azay-Le-Rideu castle in France.