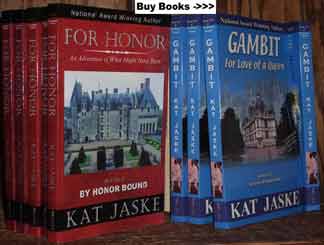 My friends,
Come with me to France, to the time of the musketeers, when honor is everything. Meet the musketeers. Laugh with them; ride with them, fight for your life with them. Weep with them. It's 1638. You are there. France does not suspect the evil forces working within to shatter the tranquility, to split the spoils for evil's own gain. Read more ->>>
Special SALE PRICE of $14.99
These are great books to take with you on your vacation to France.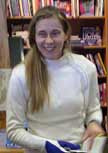 For Honor ->>>
Gambit ->>>
Righting Time ->>>
Out of Phase ->>>
Free book downloads ->>>

From the France menu above you can see pictures of the Louvre, Mueng sur Loire, Chambord chateau, Monacco, the DaVinci staircase, Arles, Bastille, Pont D'Avignon, a Seine River cruise boat, Azay le Rideau, Mont St Michel.
Below is a beautiful scene of Foix, France.
Use the menu on the left to see more pictures.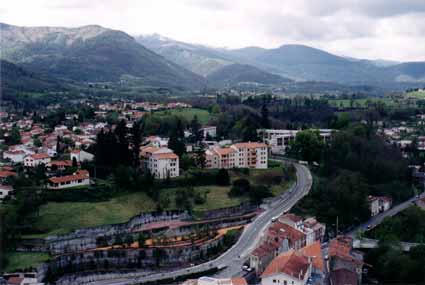 The book cover features a picture of Langeais castle/chateau, which was there during the time of the musketeers.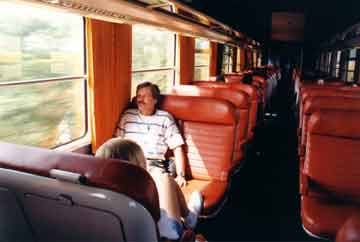 Author's father, above, relaxes on one of the TGV trains from Paris to the Loire Valley, where many of the chateaux and castles are located.
If you go, buy first class tickets, as above. The regular class train cars are packed with people, standing room only. There is only a slight increase in cost for the first class ticket if you buy your tickets in the United States before you leave for your vacation to France. We bought one of the rail passes.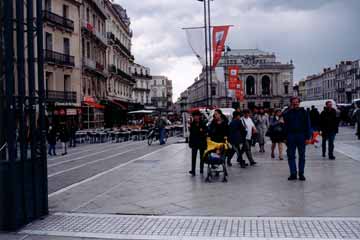 Author's father, right, and other people view the famous Place de Comedie in Montpellier, France. Many events and performances take place in ths square.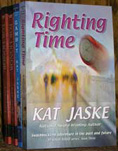 Mon Dieu! Can this young lady write! An unforgettable adventure fiction so exuberant, so unexpected that it leaves even the most jaded reader breathless for more. . . . fast-paced, swashbuckling book replete with humor, charm and valor extraordinaire. Five-star reviewed book, For Honor. Forewordreviews.com
Righting Time
Book Three of BY HONOR BOUND
by Kat Jaske
What would you do if you were a time traveler and you made a terrible mistake?
What if that mistake is destroying your own history and your only hope is to convince 17th-century musketeers to travel forward in time and set events right?

Above is the real Mona Lisa painting by Leonardo Da Vinci, hanging in the Louvre in Paris, France. It actually is a rather small picture. There were hundreds of tourists looking at this painting the day we took a picture of it.
Author, Kat Jaske spent two years studying in France, in Montpellier.
Jaske speaks fluent French and is a French and English teacher in Las Vegas, Green Valley High School.
Her new book, For Honor, is historical fiction in 17th century France, and features the musketeers, sword fighting, and King Louis XIII.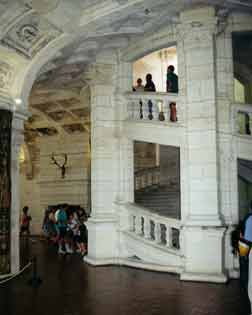 Above is the famous spiral staircase by Da Vinci in Chambord castle in the Loire Valley in France.
The swashbuckling books are great to take with you on vacation to France.



For Honor ->>>
Gambit ->>>
Righting Time ->>>
Out of Phase ->>>
Free downloads ->>>
Reviews <<<more reviews ->>>
"Best stories and best written books I have read in several years."
Mark Myers - storyteller - Ohio
"Kat's really good at creating characters you care about almost instantly." - Hillary Campbell
"Absolutely loved it! Your books are some of the most well-written that I have read. Your ability to maintain complex plots and provide a true flavor of Europe is amazing. Your character development is outstanding." - Linda Lipsitt
"I enjoyed it so much I read it twice." - Joe Sinnapan
"What a compelling story."
Dave Keeler
"The stories are movie-material in my opinion, and that is a compliment.' - Michiel Brongers
Selected by Las Vegas Green Valley High School for 2006 Reading Incentive Program